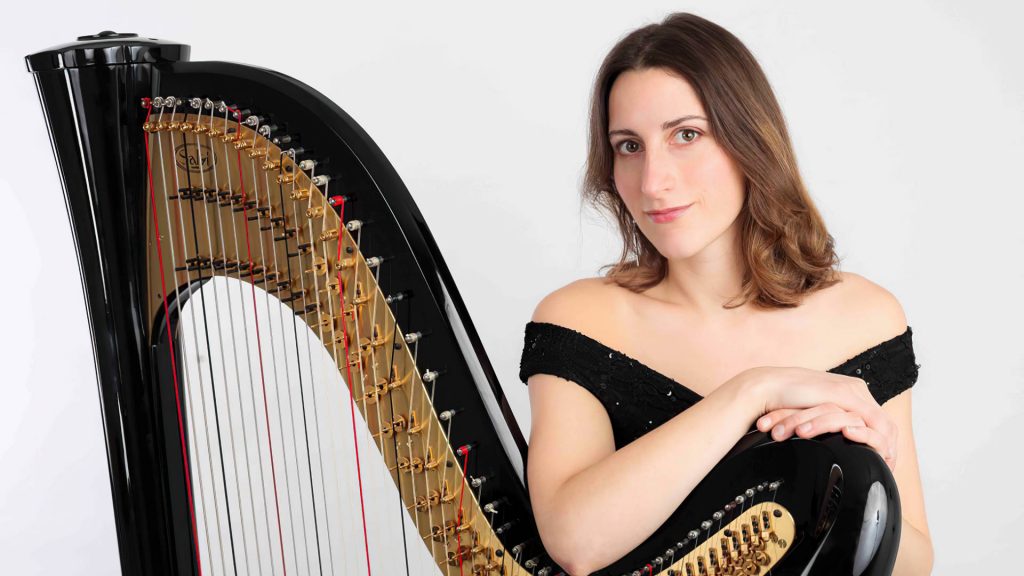 Tips from a Harpist
Meet Harpist Cecily. A professionally trained musician who has performed at events ranging from the smallest wedding to the Princes Charles' 60th birthday party!
Who better to guide you through the world of booking a harpist for your own special occasion?
Read on to find out more…
Why should you book a harpist?
Not only does having a harp look elegant and catch the eye of all your guests, but in my opinion it is one of the few instruments which is able to create a beautifully unobtrusive music setting.
During my time working as a harpist, this has been a regular compliment. People tell me they love being able to enjoy the music without it imposing on their conversation.
As an instrument of beauty in both sound and looks, the harp is ideally suited to wedding ceremonies, drinks reception music and sit down meals of up to 200 people.
Logistics of booking a harpist
Parking
Parking is a big priority for harpists. I'm always grateful to clients who make an effort to provide parking close to their venue entrance. Sometimes this isn't possible if it's in the middle of a city, so it's very important to organise a time and place for the harpist to stop and unload before seeking the closest advised parking. A concert harp is a huge instrument, and even though us harpists are tougher than we look and are well practised at moving them around, we thoroughly appreciate anything which helps us get the harp in and out of the venue more efficiently.
Accessibilty
Accessibility inside is crucial and you need to think realistically – there are some places a harp simply can't reach, such as at the top of a narrow spiral staircase. Most venues will have lifts if your event is upstairs, but if there are stairs then it's important to have someone on hand to help if needed. Check with your venue and harpist in advance if you're not sure.
Playing outside
Absolutely let your harpist know if you are planning on having them play outdoors. Since harps are very valuable instruments, outdoor conditions can do some damage if suitable shelter isn't offered. If the weather is damp, rainy, too cold (generally under 20 degree celsius), or too windy then playing outdoors risks string breakages and even warping of the harp. For a nice sunny day, the harp should be in a shady place on a level, hard surface, out of direct sunlight. Playing on grass is possible and I always carry protective mats with my harp just in case, but always warn your harpist in advance.
Feed and water them ?
If your event falls over a mealtime, your harpist will be very grateful if you can supply them with food and drink.  A well-fuelled musician will always perform better and they may have travelled a long way to play for your special day. Even just a sandwich will go a long way!
A typical event from start to finish
Once you have booked your harpist, they will contact you either by phone or email within two weeks of the event date to discuss the logistics. If you have not already chosen your preferred type of music then you can ask them for advice.
On the day of the event, I always aim to arrive about 45 minutes in advance of playing. This gives me enough time to find the venue, park, unload the harp, set up and tune before the guests arrive. Remember the harp has a lot of covers and a trolley, and your harpist will need to hide these away in a cupboard or similar. It's one of the first things I ask the staff when I arrive.
Harpists usually take bookings for between 1-3 hours and for a drinks reception or dinner, it's typical to have 2-3 x 45 minutes with breaks of 10-15 minutes in between. Once finished, I always find the client to thank them before packing up and loading the harp back into the van.
Reccomendations for wedding music
For a civil wedding ceremony, the registrars only let the guests into the ceremony room 15 minutes before it begins, so this is when I would start the background music. Following this, specific music chosen in advance will be played for the bridal entrance, the signing of the registers and the exit of the married couple.
Classical music for weddings is very popular but you should never be afraid to ask for something a bit different! All harpists will have a varied repertoire which should include pop, jazz, and music from films and musicals.
If what you would like isn't listed it doesn't mean your harpist can't learn it.
Here is a list of popular pieces I am frequently asked to play which work well with parts of the ceremony:
Canon in D by Pachelbel
The Wedding March by Mendelssohn
Arrival of the Queen of Sheba by Handel
Moon River
Flower Duet by Delibes
Clair de Lune by Debussy
At Last by Etta James
I Giorni by Einaudi
A Thousand Years by Christina Perri
Watch this clip to see Harpist Cecily play Glinka Nocturne in E Flat.
Q & A
How long have you been a harpist?
I have been playing harp since I was seven years old and gradually eased myself into the professional sphere from my late teens, although ironically, I hadn't actually planned to be a professional harpist!
What attracted you to the life of a harpist?
I always knew I wanted to be in music, but not necessarily a harpist. The music profession has a lot of variety and freedom. I have not been disappointed since following the harpist route! I have discovered incredible venues and really beautiful music I didn't know existed until people requested it. I am so happy and lucky to be able to play the harp every day for a living.
Who are your music icons?
I have icons from many different musical genres since I love all music! These include many classical musicians and composers including Claude Debussy and Frederic Chopin; pop/rock bands like Coldplay, Guns and Roses and Van Morrison; and jazz legends such as Frank Sinatra, Ella Fitzgerald, and Duke Ellington.
Tell us about your most memorable performance.
I will never forget playing at a party for Ronnie Wood from the Rolling Stones in 2013. Inside a railway arch in East London, I got to pretend I was one with the celebrities!
What is your favourite piece of music to perform, and why?
This changes quite a lot depending on what mood I'm in, but I always adore playing I Giorni by Ludovico Einaudi. It's utterly sublime on the harp, and it's a magical choice for a bridal procession.
Who would you most like to perform for?
I've had the honour of performing for quite a few major names over the years which has certainly been exciting. These days though, I particularly enjoy performing to those who don't usually listen to classical music. These tend to be wedding guests, and I surprise them by playing pop songs they recognise, but it's in a classical style. Their positive comments and mentions of wanting to listen to more instrumental music in the future just makes my day!
Where would you most like to perform?
As I'm writing this, we are at the beginning of the Covid Road Map out of Lockdown. So quite frankly, right now I'd like to perform anywhere! After that, I'm hoping that international touring will become easier than Brexit is leading us to believe. Performing in Europe and around the world is an incredible experience and one I want to repeat over and over if I can.
What three words sum you up as a musician?
Versatile. Expressive. Sensitive.